Have a broken garage door spring? Wonder why they break or maybe why yours broke so quickly? If you've read our article On Why Garage Door Springs Break then you know there are lots of reasons but the biggest reason springs break is because of the rated duty cycle and how much the door is used.
Garage door springs are typically rated when sized properly for 10,000 cycles. That's up and down a total of 10,000 times. Many times the spring will last much longer than that. Sometimes they fall short. Look at this picture.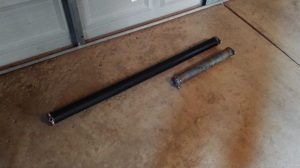 This is a perfect sample of an improperly sized spring. The last time the spring broke a set of these tiny springs were put on a 16×7 2 car garage door! And they lasted last than 2 years before one of them broke. This is way too small and they surely had to put extra turns on the spring to get it to balance the door. When the extra turns are put on a regular 10,000 cycle spring, it can halve the number of duty cycles or more! No wonder they didn't last.
Our springs are made right here in the USA. No Cheap China imported crap. We have them custom made for us for high duty cycles. There is no extra charges for our high quality springs. That's why we can warranty them for free and stand behind the quality of the garage door springs that we put on
Give us a call today and let us earn the opportunity to make you a satisfied customer. 740-414-4500