If you're visiting our page, you probably have something broken and looking for a local Ohio Garage Door Repair help expert from someone you can trust. We are locally owned and operate right in Ross County Ohio (Chillicothe) and work in all surrounding areas. Call us at 740-414-4500
Garage doors have a lot of parts to them, and not only that, the torque put on both the springs, the torsion bar, and the cables can be very dangerous. For just about everyone, it comes down to calling an expert in and getting things straightened out. You've come to the right place though. We have the best technicians who can offer you the best value on your repair. We use long lasting heavy duty parts that are manufactured right here in the USA and most from right here in Ohio! Our goal is to make sure you don't end up in this same situation again and get you back to having a working garage door in no time.
Fixing and repairing all types of torsion springs, extension springs, garage door cables, all makes and models of garage doors and garage door openers is what we do best. Compare our prices and service, and you'll be completely satisfied with our work. Take a look at our quality and guarantee, and you'll be amazed.
Our Garage Door Springs are the Best for Repair
We offer the best warranty around on all of our garage door torsion springs instead of a 1 year or less option, it's a full 3 years! Try and find that anywhere else. Many will offer extended warranties if you overpay for their "heavy duty" springs. Well, our springs have up to 5 times the duty cycle rating as their "heavy duty" springs and is already included in our price!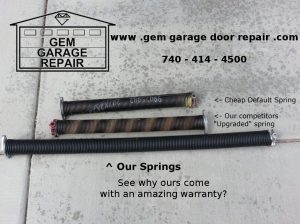 You can easily see the difference our garage door springs offer. They are bigger, they are stronger. Our garage door springs last longer! Our springs are made IN THE USA! They are not some cheap imported garbage from China. The thing the picture doesn't show well, is the thickness of the steel. That is an important part. If you want, zoom in on the picture and compared how close each line is to each other. Our lines are thicker and further apart because the steel is thicker on each coil of the spring. That's the gauge of the wire and that's what makes the spring last so much longer. Quality you can see for sure! This is just part of the reason we are the go to company around for garage door repair help.
Something else Broken on your Garage Door and need it fixed?
We don't just fix garage door springs, if it has something to do with your garage, we fix it:
Give us a call today for your Garage Door Repair Help and we'll get you taken care of. (740) 414-4500