I've said this all over my website. I do not take good before and after photos. If I remember them at all, I'll sometimes get an after photo of the new garage door. I have a few photos saved up and want you to see how some of these carriage style doors look on these garages. The style has been pretty popular this year. Both with and without the carriage style handle and hinges.
This beautiful door replaced a terribly old wooden garage door that didn't even work anymore right here in Chillicothe, OH. The windows on the top panel let in tons of natural light too. This homeowner was very happy with how the new garage door changed the look of their home.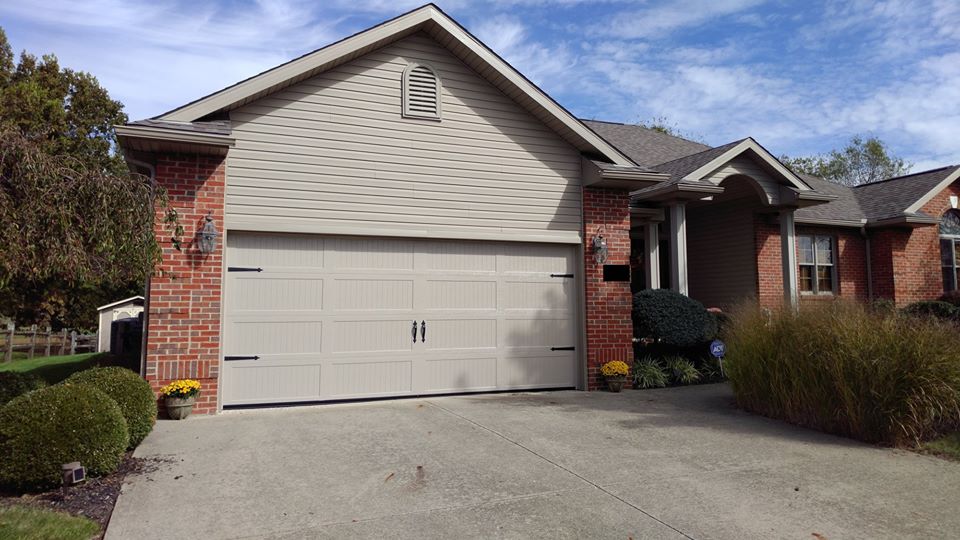 The black accents of the door handles and hinges certainly add quite the touch to this new carriage style garage door in Ross County Ohio. The old garage door was faded and damaged. The homeowner told me they just love how the door just made their curb appeal pop.
These garage doors look great in this pair on this home in Waverly. The traditional 6 pane window style is slightly modified here with the arch cut out to add a little additional class and uniqueness. These doors were paired with a set of brand new Liftmaster garage door openers.
This home was about to be listed for sale up near Circleville. The old garage door was dented, faded, and looked old. This new garage door will provide the new homeowner with many years of service and looks just awesome against that stone front.
I saved this one for last. The Ross County homeowner plans to coat the hardware in a brass color paint as an accent. The rest of the home has black trim for the windows and doors and this new garage door was the perfect touch for this project. Paired with a new belt drive opener and the homeowner was very happy and I was glad that I had the chance to help them on this project.
Are you ready for a new garage door?
Give us a call for a free quote. We use the best doors manufactured right in the Buckeye state! I love knowing that outside of repairs, when I'm sourcing my garage doors that we're helping keep jobs local. Call me and let me go over all the design options with you even if a carriage style door isn't what you're looking for. 740-414-4500 We work in Chillicothe and surrounding areas of Ross, Pickaway, Jackson, and Pike county. We'll even venture out to Vinton once in a while 🙂