I get asked all the time when I answer the phone "GEM Garage Door Repair" if we also install new garage doors and openers or if we only do repairs! Well, I guess that's a problem with the business name and how I set it up with the licensing and insurance. The answer though is YES! In fact, we install some of the highest quality doors that are manufactured RIGHT HERE IN OHIO!
I've been told many times when quoting the new garage doors that people are excited on how good the prices are for what they are getting installed and the old nasty one being taken away. We even install Liftmaster garage door openers if you need to replace an outdated machine or are looking to add a new one in.
I am very bad at taking before and after pictures of new garage door installations, but here are a few that I have saved.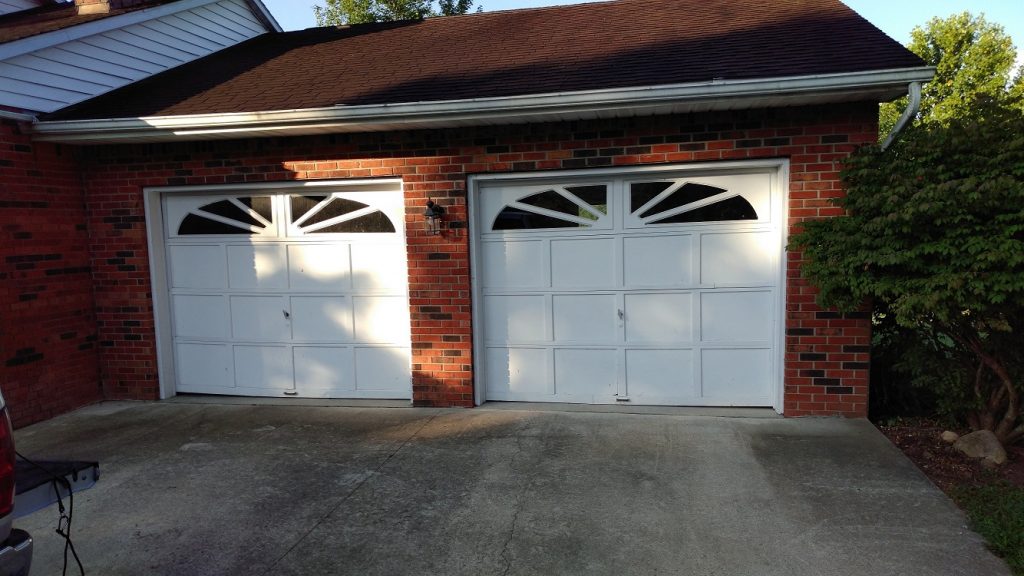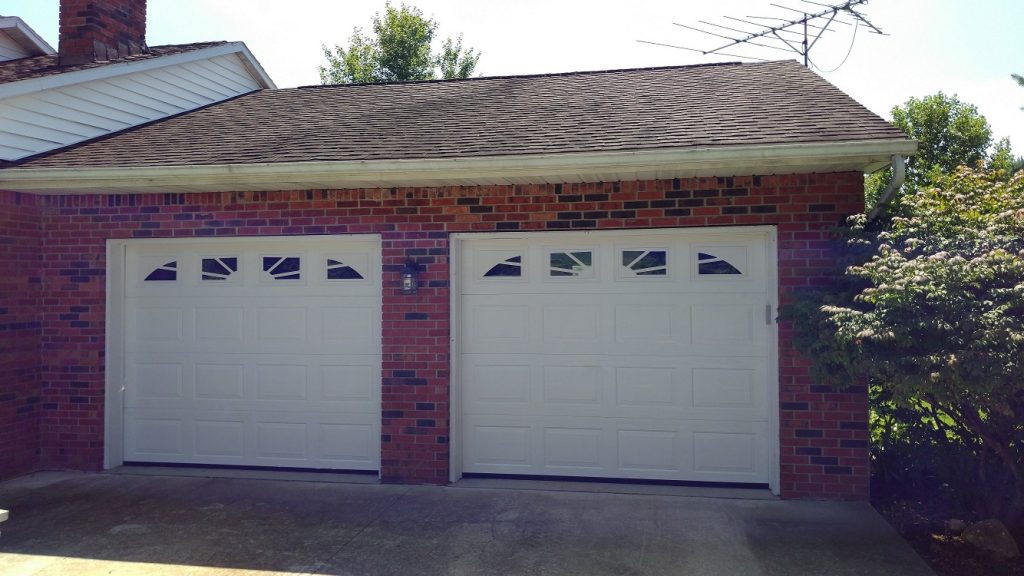 These wood garage doors were certainly dated and had some age showing. They had been painted several times but were still hanging in there. The wood on the back was starting to show signs of some water damage and rusting on the metal parts. The doors were also manually lifted by hand and were quite heavy for the homeowners that were also starting to show their age (Hey! If you are read this, I mean no offense! I promise.) The updated new garage doors are insulated. Over R13! They are also steel backed adding lots of strength. Since it is attached to a living space this will save heating and cooling during the different seasons. Balanced properly with new torsion springs, they are also easy to lift. Attached with new automatic garage door openers and this is a great update for this home and for this couple.
I forgot to snap a before picture on the damaged garage door before I got one of the new garage doors up but this shows the updated garage doors install. This is a carriage style door with windows and certainly turned a plain front garage into a very attractive front. The old doors didn't look too bad. However, they had some significant damage on the inside. Instead of repair money on old doors, it was time for a face lift. The garage door is again attached to a living space and these new garage doors are insulated as well.
Carriage style garage doors add a beautiful touch
The last installed garage door I have a picture to show off I don't have a before photo but it just turned out so nice on the home I had to show off a carriage style two car garage door without windows.
This new garage door replaced a faded and well worn door. Although the colors were the same, the door went from a standard short panel style door to this ranch style carriage door with the black hardware. The hardware is actually magnetic. It uses tiny strong magnets to hold it in place. It's easily movable as required. It just gives the garage door such a nice finishing touch.
According to remodeling magazine on a linked Realtor article (Available here) it shows that a new garage door is the highest return on value when doing updates on your home. The prices they show for those services are crazy! If that can increase the curb appeal of your home and increase the value of your home that much, call today for a quote! My prices are nowhere near what that magazine says! Let me help you find a door that will work with your personal needs and goals.
Ready to install a new garage door?
If you have an old door that needs replaced or just are looking for an upgrade to the face of your home, give us a call and we'd be happy to help and get you a quote to install new garage doors on your home. It's likely much more affordable than you think. 740-414-4500 or book online using our online scheduler.